Open worlds are some of the best experiences one can have in a video game. The freedom to go anywhere and explore any part of the game world can leave any gamer in a tizzy. Low-end hardware struggles to play some of the bigger open-world games released today. However, there are still a variety of open-world games for low-end PCs. I will be considering Low-End hardware for the testing, which was also used in my previous Low-End article.
The rig is a i3 3rd gen with 4GB ram and an Intel HD 4000.
Note these games are in random order and not ranked. These games are quite low-spec and can run on most iGPU's and old CPUs such as an old i3, Intel HD 4000, and 4GB ram on the lowest settings. I recommend that if you have an iGPU, use dual-channel ram to increase the performance in case of weak integrated graphics.
Grand Theft Auto Series (III, Vice City, San Andreas)
The grandfather of all open-world games, GTA needs no introduction. The series is popular for featuring a huge city to play around in. Players can get into the action as soon as they start the game. The games allow players to do almost anything and provide various cheats to make the experience even more fun. The freedom and open environments make the game an enjoyable experience even today. I am sure most of you know the story of these games, but here is a short recap for those who do not or forgot.
In GTA San Andreas, we play Carl Johnson in the early '90s, a Grove Street Member, who's mother has been murdered and is returning to Los Santos, San Andreas. On his return to the neighborhood, a couple of corrupt cops frame him for homicide. CJ is forced on a journey that takes him across the entire state of San Andreas to save his family and to take control of the streets.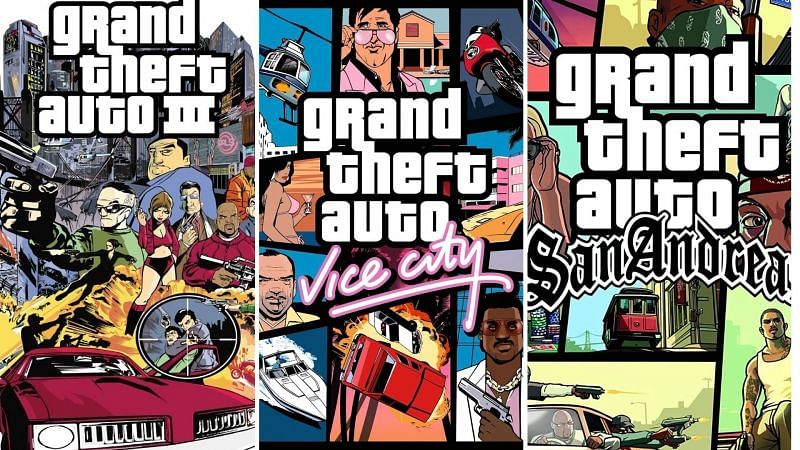 Set in the fictional Liberty City in 2001, Grand Theft Auto III begins a new continuity separated from its predecessors. The game's narrative follows the adventures of Claude, a silent criminal who was betrayed by his girlfriend Catalina during a bank heist. Claude begins to work for different factions in the crime-riddled Liberty City, including the Mafia, Yakuza, and corrupt figures.
GTA Vice City is set in Vice City, Florida, in 1986 and concerns the exploits of protagonist Tommy Vercetti as he rises to become Vice City's major criminal power. The game's events follow on from Grand Theft Auto: Vice City Stories. The game's plot is based on multiple real-world people and events in Miami, such as Cubans, Haitians, and biker gangs, the 1980s crack epidemic, the Mafioso drug lords of Miami, and the dominance of glam metal. The game was also influenced by the film and television of the era, most notably Scarface and Miami Vice.
Mafia Series ( 1 & 2)
The Mafia Series are single-player, third-person shooter sandbox style video games involving fictional Mafia families and set in fictional or reimagined American cities. Dripping with atmosphere, Mafia offers a strong story with engaging characters, great voice-acting, and an intriguing setting.
Mafia (2002) takes place between the fall of 1930 through to the end of 1938, during the latter part of Prohibition, and is set in the fictional American city of Lost Heaven. The player takes the role of taxi driver Tommy Angelo who, while trying to make a living on the streets of Lost Heaven, unwittingly becomes involved in organized crime as a driver for the Salieri Crime Family, led by Don Salieri. The storyline for Mafia II is a chronicle of the rise of Vito Scaletta, the son of Sicilian immigrants. As the game progresses, Vito joins the Falcone Crime Family and becomes a "made man," as does his best friend, Joe Barbaro.
Bully
Made by Rockstar, this unique open-world game casts you as a delinquent teen sent to study at a strict boarding school to change your mischievous ways. Set in an open world environment and played from a third-person perspective, we play a delinquent teen named – James "Jimmy" Hopkins. The world is confined to a school, but it is quite fun to play with. You cannot kill anyone, but you can knock them out. This game features a hand-to-hand fighting combat experience. You can check out an article on this game for more details written by fellow writer Seven-Squanchy-Seven.
Gun
Gun is a Western-themed action-adventure video game developed by Neversoft and published by Activision for Microsoft Windows, PlayStation 2, Xbox, GameCube, and Xbox 360 in 2005. GUN is one of the well-known western games and probably the best of the PS2 era if you want to compare it to Red Dead Revolver. It is more of a low-end boon for gamers who want to play Red Dead Redemption 2. Being worked on by the movie writer Randall Jahnson (Sunset Strip, The Doors, Mask of Zorro, Dude), it is quite narrative. While other aspects of this game may distract you, the story will never disappoint.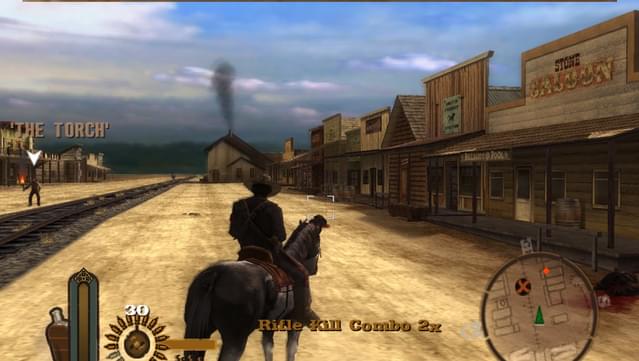 Total Overdose
Total Overdose: A Gunslinger's Tale in Mexico is an open-world third-person shooter video game developed by Deadline Games and published by SCi Games. It is like GTA with Max Payne with a Mexican tone. It is quite an underrated game. The player assumes the unexisting role of Ramiro "Ram" Cruz; a criminal turned DEA Agent. He has been sent into the Mexican border city of Los Toros and its surroundings by his twin brother Tommy, who wants him to find out who killed their father, Ernesto Cruz. It is worthy of taking a ride through Mexico and a ton of fun with this game. You can check out an article on this game for more details written by fellow writer AJ_COOL.