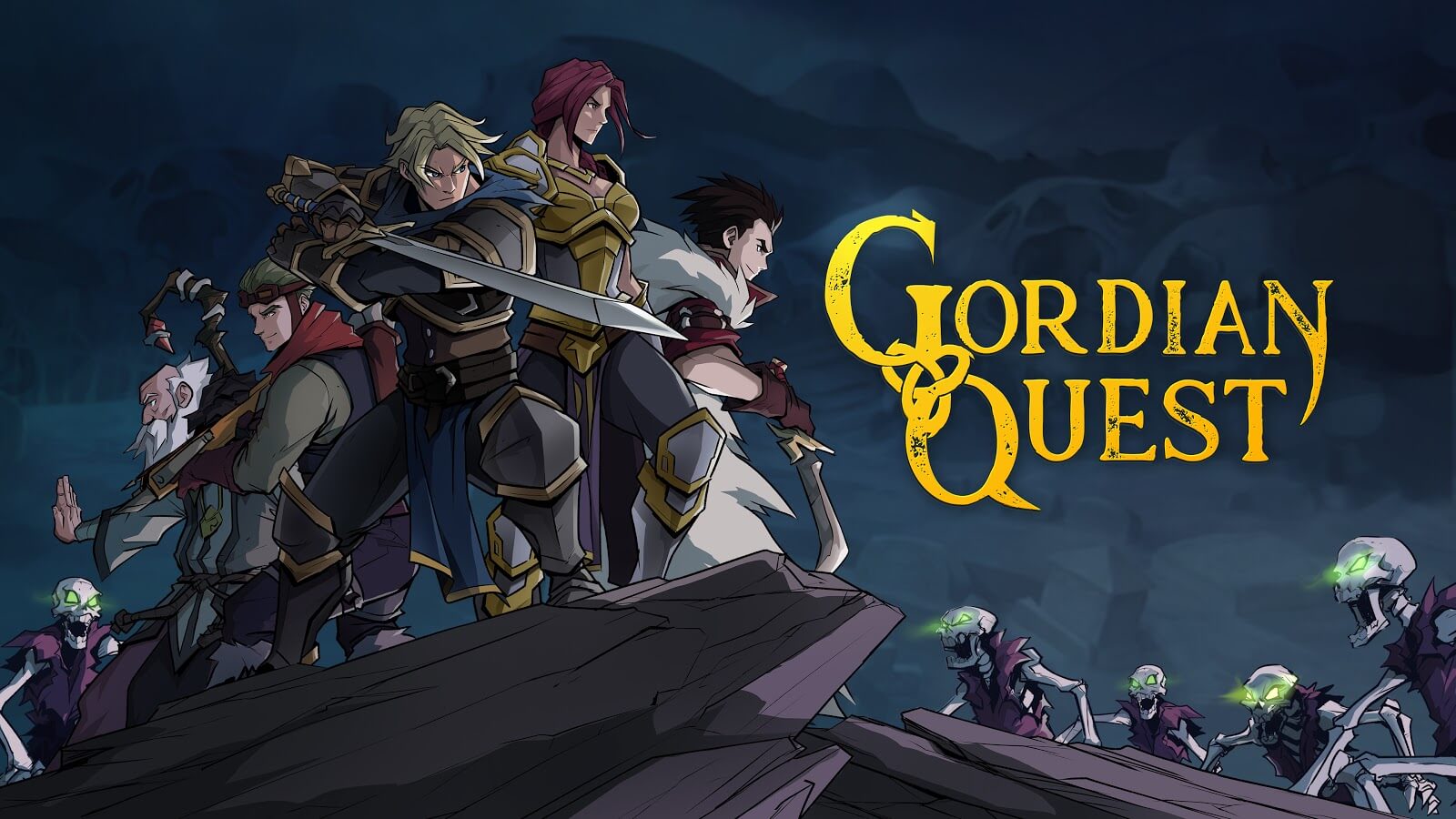 Rating: 7.8/10
Synopsis
A sinister curse corrupts the land. Darkness reigns. Monsters roam. Scoundrels loot. Cowards flee. Heroes emerge.
Lead heroes on an adventure to save what's left of this fallen world and destroy the root of evil abound. Will you fall at the claws of your enemies or the consequences of your poor decisions? Your Gordian Quest is about to begin.
Gordian Quest is an epic RPG inspired by old-school classics like Ultima and Wizardry, using modern gaming concepts like deckbuilding and turn-based strategic combat. You will form parties of heroes whom you will have to lead and manage on grueling missions. Help them forge bonds and discover new skills among them. Be fearless and unwavering as you work to unravel the curses laid upon the lands and defeat the ultimate evil at the heart of it all.
***Early Access Features***
Two Acts – The current Early Access version features two Acts, each providing more than 5 hours of playtime per playthrough.
Seven heroes – At the moment, players can choose from seven different heroes – each with their own unique class, skills, and playstyle to form a party of three and bring to adventure. There is a swordhand, a cleric, a ranger, a scoundrel, a druid, a spellbinder and a bard.
Hundreds of skills – The heroes have a combined total of close to 500 passive and active skills that can be deployed during turn-based battles, allowing players to discover and formulate their favorite combos.
Train and equip heroes – Heroes can be upgraded, trained and equipped with a large selection of weapons, armor and enchanted trinkets to enhance their abilities.
High replayability – Procedurally generated maps and dungeons and randomized hero skills make each playthrough different from the last.
Various difficulty levels – Take on hardcore mode for a teeth-gritting permadeath experience, or play more casually where death is only a setback.
Loot galore – Gather items and relics throughout your journey to boost your heroes' abilities. In the future, you will also encounter mysterious items that can bless your heroes but also cripple them with a curse at the same time.
Carryover rewards and progression system – Get rewarded the more you play. Progressing in Acts with each hero lets them start off with a bit more resources, items, or even granting the ability to modify their starting decks.
***Future Content***
More heroes – Encounter more heroes from all over the realm and form new party combos and relationships. We are anticipating adding at least 10-16 more heroes.
Relationship system – Future development will introduce a unique system where bonds of friendship, rivalry, mentorship or even love among the heroes in the party can be uncovered to unlock secret combo abilities.
Shape the course of your adventure – Align yourself with different factions, embark on side quests and eventually shape the course of your adventure with critical decisions.
Endless mode – This special mode makes the game a perpetual adventure and allows you to keep on questing, slaying more monsters and collecting more heroes, skills, relics and weapons.
PVP mode – Engage in skirmish fights with other players using your preferred mix of heroes and skills.
Review
Gordion Quest, if done right, is by far one of the most promising RPG games out there. Well written quest designs, good UI, and a simplistic overlook at combat makes me think the developers have done a good job. They've set a goal, they know what they want, and they're confident with it. Bear in mind that I haven't progressed much through the game's story yet, but that is because it's in early access. There's a big open world, a confident cast of characters. At first, I wasn't so drawn to the art style, but gradually I warmed up to it!
Why you MUST get this game.
It's awesome!
This is, from the start, a fantastic game that immerses you into this world. The fact that it's so cheap means the amount of quality that is in this game is fantastic. The developers have spent a lot of time in these fields: Storyboarding, concept art, UI design, and MUSIC! I have to say that I've been playing Vagrus the Riven Realms and Trials of Fire. All early access games. The developers on all three games should be praised for hiring musicians that can compose the most epic of soundtracks. The music of this game is really good. For Indie titles, the fantasy genre is really a good place to find some games this Christmas.
My Impressions
From my experience, there's some immersive cinematics. I do wish the game had more of this. There are occasional challenges and it's a decision e-based system thus, the choices you choose will have an effect on this game. It's good to give yourself a bit of a challenge when you're doing a game like this. This is a text-based RPG combined with the mechanics of the system of using cards in combat. I like this challenge, though I can't seem to move my heroes in combat – I can strike – but moving them is a little difficult for me. I do like the idea of the character's dialogue boxes coming after the combat is over. Taunts and small tidbits of dialogue do add to the immersion – though I'd want to see more personality. So make Alphonse (I wish to call him Alfonso de entrerrios) have a bit more…Jack Sparrow style qualities I imagine?
I'd also want to know whether the heroes themselves can recruit their sub-band of new heroes that can help them in certain quests or send them to other locations. I do find the card user thingy (I can't describe it but its when you select cards) to be a little wonky – I don't know why but I'd just use the cursor mouse – but that's me. The game has some excellent writing for a start, and the art design really adds to the immersion. Sometimes I wonder if the developers have Age of Empires II, played some of the best custom campaigns and then took inspiration from that, because the art design does casually reference this. Oh. And get this. There's a HIDDEN BLADE. Get the reference (I believe it is one) – Assassin Creed 😀
Overall, this is quite a fun game. I really like it. I think you will too. Its early access and if you look at the world itself, its huge. I wonder what else they'll add. I would like to see diverse races: Asian, Indian, Chinese, Japanese etc. Because those cultures have some RICH mythology and I would like to see more Western RPGs to add these types of cultural flavours. Its just me – but I've had a lot of fun playing this 😀
This is a game you NEED to get at the Steam Christmas Sale. Buy it, then wait for all the updates, and THEN play. It's a jampacked game full of content out there. You just need to treat it like you're playing ESO online really or BGIII. Plus the Developers are active so you can always join their discord for that matter if you want to give feedback!