INTRODUCTION
Is your computer slower than usual? Are your games running with low fps and higher temperatures all the time? You might have a miner installed on your computer! Computer Hackers have been finding numerous ways to hack into your computer without your knowledge.
Today I will be talking about miners and how they can attack your computer without your knowledge. We will go through steps that can remove any miners or PUPs from your personal computer.
WHAT ARE THEY?
I am guessing that you all already know about cryptocurrency, "A cryptocurrency, crypto-currency, or crypto is a digital asset designed to work as a medium of exchange wherein individual coin ownership records are stored in a ledger existing in the form of a computerized database using strong cryptography to secure transaction records." (Wikipedia, https://en.wikipedia.org/wiki/Cryptocurrency) Crypto miners are software that use your computer's CPU or GPU (or both) to earn crypto-currency value or crypto-coins. Crypto miners will harm your pc. They will not only affect your performance, they will also affect your computer's lasting duration and give you sky-high temperatures, which can lead to your computer completely stop working. These miners can instantly inject into your computer without your knowledge. While you might be thinking that criminals are only installing miners to get bitcoin currency, you are wrong. There are various miners which also mine for programs such as Monero, Electroneum, and others.
HOW ARE THEY INSTALLED IN MY COMPUTER?
Miners can be installed without your knowledge of various methods. The most common method is getting miners from other viruses such as trojan. When you downloaded that game from that suspicious-looking website because your friend said it was legit? Yeah… Stay away from software cracks and video game cracks.
Another method installs miners into your computer when you are installing programs blindly. That one time you kept spamming on "Next" on the setup without reading which programs are being installed with the program your installing? Yeah…
HOW TO CHECK IF YOUR IS COMPUTER BEING MINED
The below steps will let you know if your computer is in danger and is being mined without your knowledge.
Using the Task Manager
Right-click on your taskbar, And click on "Task Manager" option, or press [CTRL] + [SHIFT] + [ESC] to open up your task manager.
After you open up your Task Manager, See if a task takes up much of your CPU or GPU (60%+) with an unknown name. If you have a task that has a suspicious name and taking up more usage, your computer is in grave danger. Your computer has a miner installed, which is using your computer's power to make money! Please follow the instructions below to remove this. If you do not see anything, you are completely safe from miners, all though they can be hidden miners, which we will talk about at the end of the article.
HOW TO DETECT AND REMOVE THE MINER
This guide might be a little overwhelming because of the steps, but it is very hard to remove once a miner is installed into your computer. The antivirus programs listed below are completely safe and can be uninstalled after the process is complete. Let's get to the steps.
RKILL

Download RKILL to terminate any programs that might interfere with the removal process of the miner. RKILL will search your computer for present malware infections and terminate them so that they won't interfere with the removal process of your miner. Run a scan with the program before you continue with the other steps.
Download RKILL from here: https://www.bleepingcomputer.com/download/rkill/
After downloading RKILL, you must go to your Downloads folder, the folder where you downloaded RKILL, and run it. Once you run, there is no setup process to it. It will automatically detect and stop all the malware processes. Please be patient and let it scan your computer. This can take up to 6 minutes.
Note: Please do not restart your computer after running a scan with RKILL, Rebooting the computer will start all the malware programs that have been stopped for the removal of the miner.

MALWAREBYTES
Now, You have to download Malwarebytes, Malwarebytes is one of the best and safest antivirus programs that are on the market to date, Malwarebytes is mostly used for detecting common malware, but can also be used for removing miners like this.
Download Malwarebytes from here: https://www.malwarebytes.com/mwb-download
Once it is installed, you must follow the same step as above, go to your downloaded folder and run it. Malwarebytes is a setup process so you must keep following the prompt, please do not make any changes when the program has completely installed, And please do not restart.
You must be at the Welcome Screen at this point, Remember when I told you Malwarebytes is for common malware and viruses but can also remove miners? You have to enable that in the settings, click on the settings right-top of the program, next to My Account.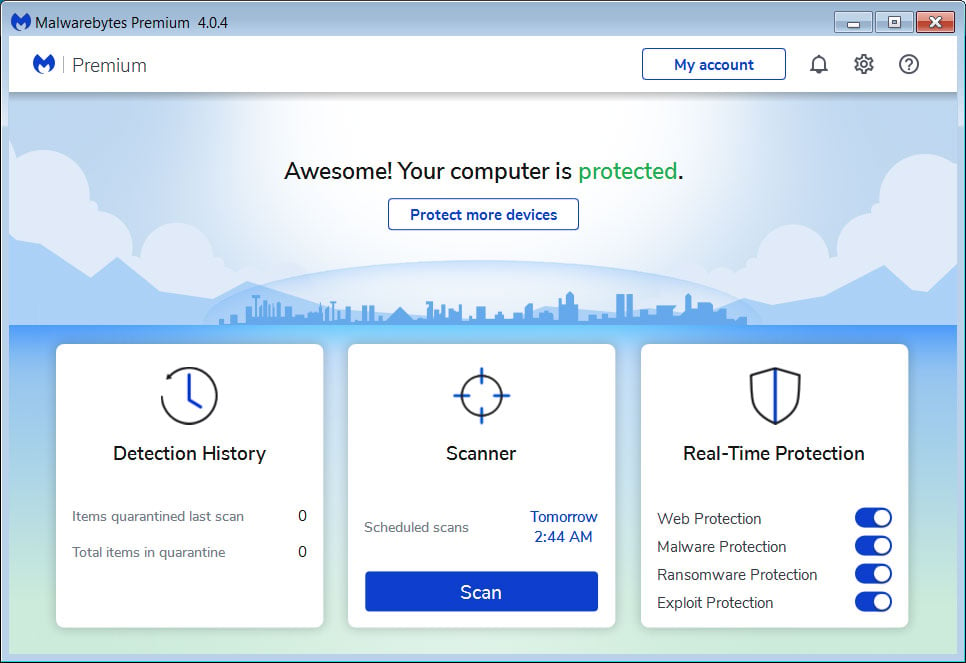 Now go to the Security tab, and in the Scan Options, enable "Scan for rootkits".
Now tab out and run a scan. This process can take up to 10 minutes depending on the speed of your computer. Please be patient!
When you have finished scanning, Malwarebytes will give you a window with all the detections that have been detected, The GUI is very user-friendly, so you can go ahead and remove/quarantine the items.
You can exit Malwarebytes now.

ZEMANA ANTIMALWARE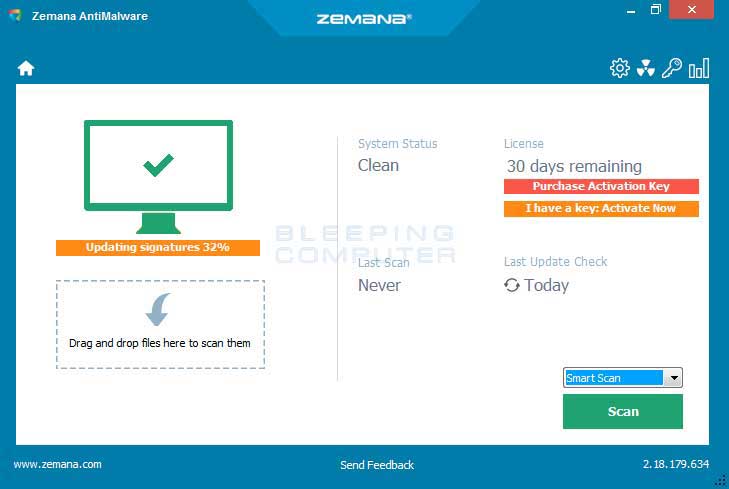 Zemana Antimalware is not that popular in the antiviruses market, but it mainly focuses on removing miners and PUPs, which we exactly want.
Download Zemana Antimalware from this link: https://www.zemana.com/antimalware
Once you are done, do the same process and run your setup.
Follow through with all the prompts in the setup and complete the installation process.
Once you have completed installing the program, Zemana will automatically start and display the main menu.
Use the free trial and click on the "Scan" Button. This will also take about 6 – 8 minutes, so please be patient throughout this process.
After the scan is complete, you can review detected malware and viruses. After reviewing them, you can click on the Next button and remove them. You must close any web browser open during the removal process. Zemana will now create a System Restore Point, remove the detected files, and repair any modified files.
You can now close Zemana. Please remember that you can uninstall all of these programs when you are done with all the steps.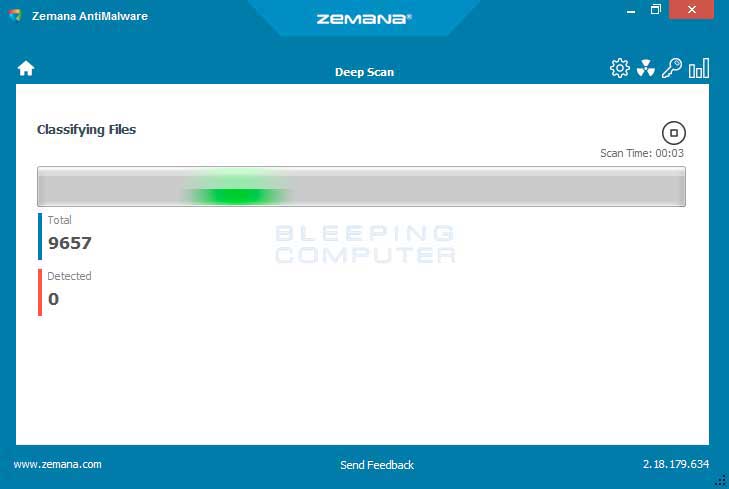 ADWCLEANER

AdwCleaner is software that will help you remove the advertised programs installed on your computer without your knowledge. This is why you must read which software is getting installed on your computer with the program you wanted. These are called Advertisement programs, Which can install trojans or miners on your computer.
Download AdwCleaner from this link: https://www.bleepingcomputer.com/download/adwcleaner/
After downloading, like every program, go to your downloaded folder and run the setup.
Follow through with all the prompts.
Once you are done, You can click on the "Scan" button and let the adwCleaner search your computer for ad programs.
Once finished, ADW cleaner will show all of the ad programs that have been detected on your computer. You can go ahead and remove them within the program.
You will be prompted with a dialog saying that adwCleaner will restart your computer. Save your work at this point and click on the "Ok" button.
Once you have restarted, rerun RKILL to stop other processes that interfere with removing the miner.

HITMANPRO
HitmanPro is a program that is specially designed to remove miners and adware. It is the most powerful one to do so. This is the last program you have to download, and please remember that you can uninstall these programs after the process is complete, except RKILL because you have to run after restarting your computer with adwCleaner.
Download HitmanPro from this link: https://www.hitmanpro.com/en-us/downloads
Once downloaded, go to your downloaded folder and follow the prompts in the setup.
Once done, you must be at the welcome screen of HitmanPro. Please do the scan so that HitmanPro will detect miners and adware on your computer. HitmanPro has a larger database than adwCleaner, so it will detect some of the programs that could not be detected in ADW cleaner.
Once finished, you will be presented with a screen with all the detected miners and adware. You can go ahead cleanse them. Once done, you can uninstall all of the programs that you downloaded now and delete the setups from the downloads folder.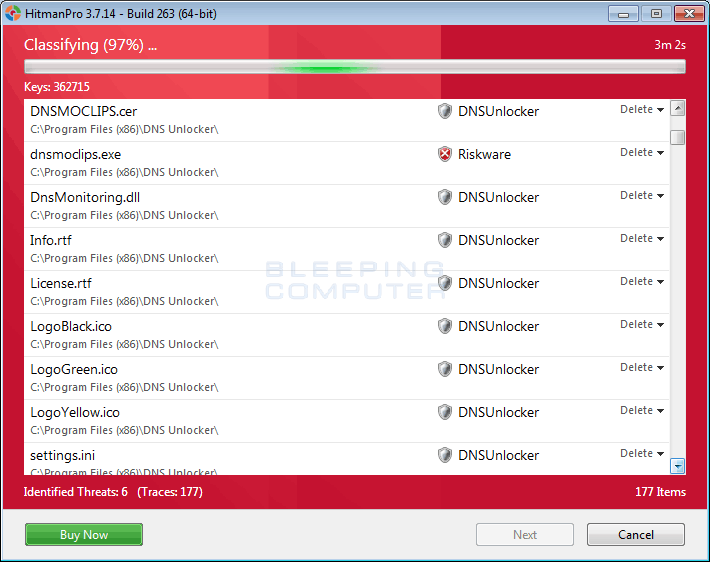 Congratulations! You have successfully removed any existing miners from your computer! Thank you for reading my article. I will leave all the download links once again down below.
DOWNLOAD LINKS
RKILL : https://www.bleepingcomputer.com/download/rkill/
Malwarebytes : https://www.malwarebytes.com/mwb-download
Zemana Antivirus : https://www.bleepingcomputer.com/download/rkill/
AdwCleaner : https://www.bleepingcomputer.com/download/adwcleaner/
HitmanPro : https://www.hitmanpro.com/en-us/downloads
Sources : BleepingComputer, Wikipedia