NEW WORLD – STANDARD EDITION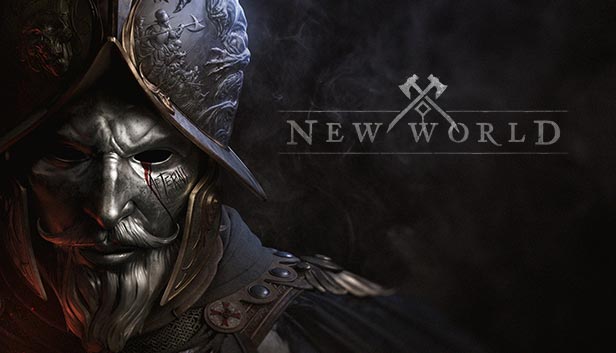 Fate has summoned you to the shores of Aeternum, the Eternal Isle. In a land hell-bent on your destruction, what will you do to survive?
Explore a beautiful open world as you move through the wilderness and ruins of the island of Aeternum.
Join forces with other players to form powerful companies of craftspeople, soldiers, and strategists.
Claim and control territories to direct the development of settlements.
Fight for survival against enemy raiders, the brutal wilderness, and a growing evil.
Gather materials and craft thousands of items, from magical elixirs and deadly weapons to sprawling fortifications.
ABOUT THIS GAME
Explore a thrilling, open-world MMO filled with danger and opportunity where you'll forge a new destiny for yourself as an adventurer shipwrecked on the supernatural island of Aeternum. Endless opportunities to fight, forage, and forge await you among the island's wilderness and ruins. Channel supernatural forces or wield deadly weapons in a classless, real-time combat system, and fight alone, with a small team, or in massed armies for PvE and PvP battles—the choices are all yours.
KEY FEATURES:

CARVE YOUR DESTINY
For thousands of years, Aeternum has been the source of fantastical legends—and now you've found it. Shipwrecked and without supplies or allies, you'll need to make your way in a dangerous world where supernatural power has changed all the rules. In such a land, your destiny is whatever you make of it.


A LAND SHAPED BY MAGIC
Aeternum's mysteries run as deep and dark as its history. Delve into the world and uncover the secret truth of the island and its millennia of strange inhabitants. As you explore Aeternum, you'll discover beauty, danger, and opportunity at every turn. You'll need to use all your skills to take advantage of the island's bounty—and survive its horrors.


SWORDS, GUNS & SORCERY
Arm yourself with brutal melee weapons, ranged artillery, or supernatural powers and jump into New World's classless, real-time action combat system. As you progress you'll be able to determine what you want your gameplay experience to be like—will you act as a protective shield on the front lines of battle? Will you sling spells to support your allies from a safe distance? Only you can decide.

STRONGER TOGETHER
At the core of the New World's social features are the three factions, organizations of like-minded players and non-player characters with their own motives and schemes for the island's future. It is as a member of one of these factions that you'll wage war and claim, defend, and develop your territory.
Rating: 7.5/10
Review:
I must admit, New World is a game that when I first previewed it, didn't generate enough interest in me to play it. Yet here I am, 30 hours later, having played my character to level 17 as I chop down wood, harvest iron, and run around the world with no option to walk. And you only walk if you are encumbered with a heavy inventory. New World isn't exactly revolutionary in its approach and nor do I wish it to be. It contains most of the standard elements of the MMORPG genre and it does that well enough. Questing? Check. Gathering resources? Check. Great Ambience and Sound design? Check. Have no doubt, this is a Historical Fantasy MMORPG, and I want to see more diversity of human cultures and civilizations in this game. I do wish to see the Romans which they did show in the first trailer launch for New World. There is a Chinese faction somewhere in this game, but I have not seen enough of it. New Worlds needs to have weekly and monthly events related to the faction wars, and add more of this.
This game is more sandbox than story centered, which is a good thing, but it also neglects the story overall for an MMORPG. But then, many MMORPGs have put story secondary in their games and instead focused on the open-world sandbox mode. This game is your journey to put it this way. How you make and decide where your character goes. It's an odd contradictory mix, for, on the one hand, New World has all the elements to become even better, but on the other, it has all the elements needed to disappoint. And that's the queuing system which we'll later cover in this article below!
PVP and Resource Gathering:
This game isn't for the most casual style player because the moment you get this game, you are going to be grinding. The game's primary emphasis is to make you grind resources, sell them on the market, and craft new weapons and items. The crafting system is clear and easy to understand. Unlike Elder Scrolls Online, which has a rigid UI system that doesn't explain crafting well enough, the crafting system in New World tells you clearly which resources you need, and how to upgrade them. Heck, what makes it even better is if you've run out of wood? Easy, go out of the city, and get some wood. It's that easy.
If it's one thing the developers got right in this game, is that they made it easier for the player to identify resource gathering. This game is fulfilling that promise that it is delivering on its sandbox mode. I haven't been able to try PVP yet in this game, since I am not at a high level and I prefer to play solo, mostly. From what I've observed, however, the three faction territories of war need more diversity to balance.
For those players that aren't flagged, other players can simply hunt them down easily. There is a faction imbalance for the three factions, and I'd want to see more events focused on these factions. So a Syndicate themed event may have a public dungeon as an example in which you have to take control off. Things like this will add more diversity. I have also read that the dungeons in this game are few at the minute and that they lack variety. But that is to be considered since most of the new content will take time to come. This is as far as I can go to the extent of my knowledge of PVP.
The Worldbuilding and Story:
Now is the time to check out where this game could disappoint. First, the main quest-line is buried underneath the massive amount of fetch and grab quests you must do to increase the level of your character. This is a shame, as the voice actors have done a superb job in immersing you into the world, but you're not motivated enough to check out the story. Most of the time I found myself not getting interested. What needs to happen is with more DLC content, more emphasis needs to be put on the story. Focus on making some good story content so that we, as the players, get interested. Because in New World, you have to take your time.
At the moment, it's essentially a game where you grind and harvest and that's it. And that's extremely disappointing because this is a game made by Amazon Studios and Amazon has no shortage of money to hire exceptional writers. Surely they could have employed many game writers to increase the immersion of the world. Because if you're getting immersion, it's through handwritten notes and reading the dialogue quests. This is well done, but that cannot be a substitute for an enjoyable story. Part of why Elder Scrolls Online succeeds is that its writers focus on the lore and the story, and the incredible voice actors do a great job of immersing you into the world. New World does that to a degree, but it's very basic. I don't want New World to ignore the story; I want New World to succeed in its story content and they'll expand upon that.

Overall, know that over 600,000 people were playing New World at launch. That's how big this game is and because we've not had a big MMORPG launch in years such as this game. New World is ambitious, and it has a lot of expectations to live up to. Also note, you'll be number 1200 in the queuing system simply because of how many people are logging in. It seems the player base hasn't declined and if you have the patience, just wait and the game will log you in. Amazon Studios hadn't expected that many people to play this game, but lo-and-behold, they are offering a free server upgrade for next week, so join a server that is of sparse population status. However, this is a gorgeous game that requires more content. So I'd say this game is worth checking out. A potentially great MMORPG that has yet to fully reach its potential.
For more of my thoughts, you check my video out here:
Sources
Steam: https://store.steampowered.com/app/1063730/New_World/
Hot Hardware: https://hothardware.com/news/amazon-new-world-server-issues
PCGamesN: https://www.pcgamesn.com/new-world/server-transfer