Hello there!
Welcome to another episode of 'The Forgotten One'.
A favorite game among the children in 2011 and 2012, Jetpack Joyride is one of the few gems on mobile phones which was yet forgotten by the expanding market of casual games in the mobile gaming industry. This game was made by a popular single-player company, namely Halfbrick Studios. They did many other games, but none of the games were as popular as Jetpack Joyride and Fruit Ninja. Now, let's dive into the review of this game. This blog will be divided into the following:
-Introduction
-Creators
-It's everywhere (releases)
-Eat those bullets (gameplay)
-Awards and Achievements
-My opinions
Introduction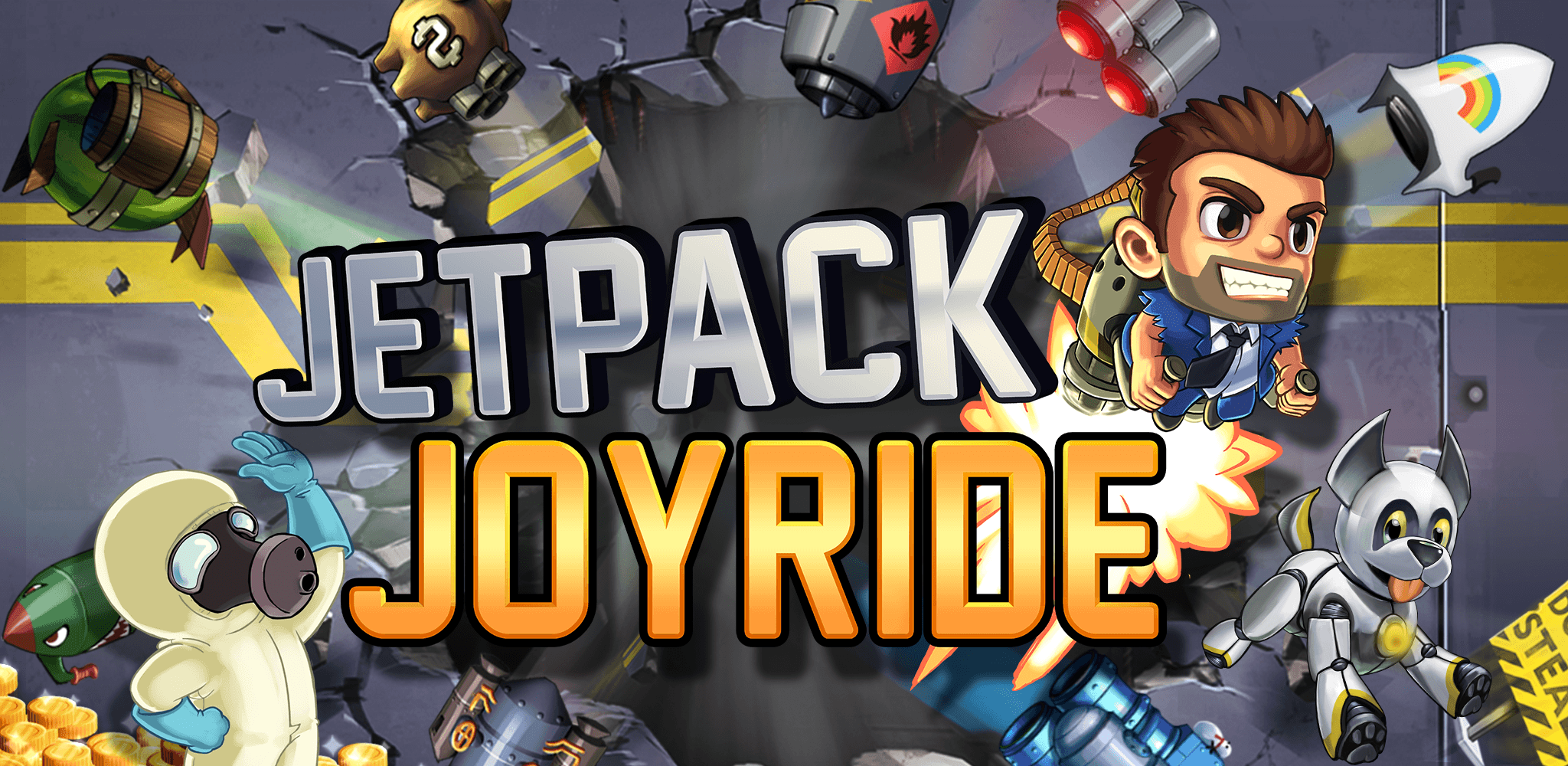 Halfbrick Studios' Jetpack Joyride is a side-scrolling infinite runner action video game released in 2011. On September 1, 2011, it was released on the App Store for iOS devices, and it has since been adapted to other platforms. It was released online as a Flash version on May 11, 2012; on Android, it was released on September 28, 2012, on Play Store; on PlayStation Portable (via PlayStation Network, ported by Beatshapers) on November 20, 2012, in North America and November 21, 2012, in Europe. This game has received a lot of appreciation from the community and critics all around.
Creators
Halfbrick Studios Pty. Ltd. is an Australian video game developer primarily based totally in Brisbane. The enterprise often labored on certified video games till 2008. Then, the enterprise launched Fruit Ninja (2010) and Jetpack Joyride (2011). Outside their Brisbane headquarters, Halfbrick opened 5 places in Sydney, Adelaide, Spain, Bulgaria, and Los Angeles. In March 2012, Halfbrick Studios received Onan Games for an undisclosed rate to utilize their software program Mandreel, which permits video games to support iOS, Android, Adobe Flash, and HTML5 development. By 2015, Fruit Ninja has been downloaded over 1 billion times. In 2017, Halfbrick Studios was inducted into the Queensland Business Leaders Hall of Fame.
It's Everywhere
The game was first released on iOS on 1 September 2011. It was downloaded more than 350,000 times in just a matter of a week. Upon seeing the massive success it gathered, Halfbrick Studios decided to release it to different platforms. Therefore, it was primarily released as a flash version accessible via the web. This version was released on May 11, 2012. Just after 4 months, that is, on September 28, 2012, it was released on Android devices worldwide: and yes, it was a massive hit. It was then subsequently released to consoles. The PSP version of the game was brought by Beatshapers on 20 November 2012 in North America, and on 21 November 2012, it was released in Europe. Next, it was released on Blackberry Playbook on 13 December 2012. Later, it was released on all PS platforms.
Eat Those Bullets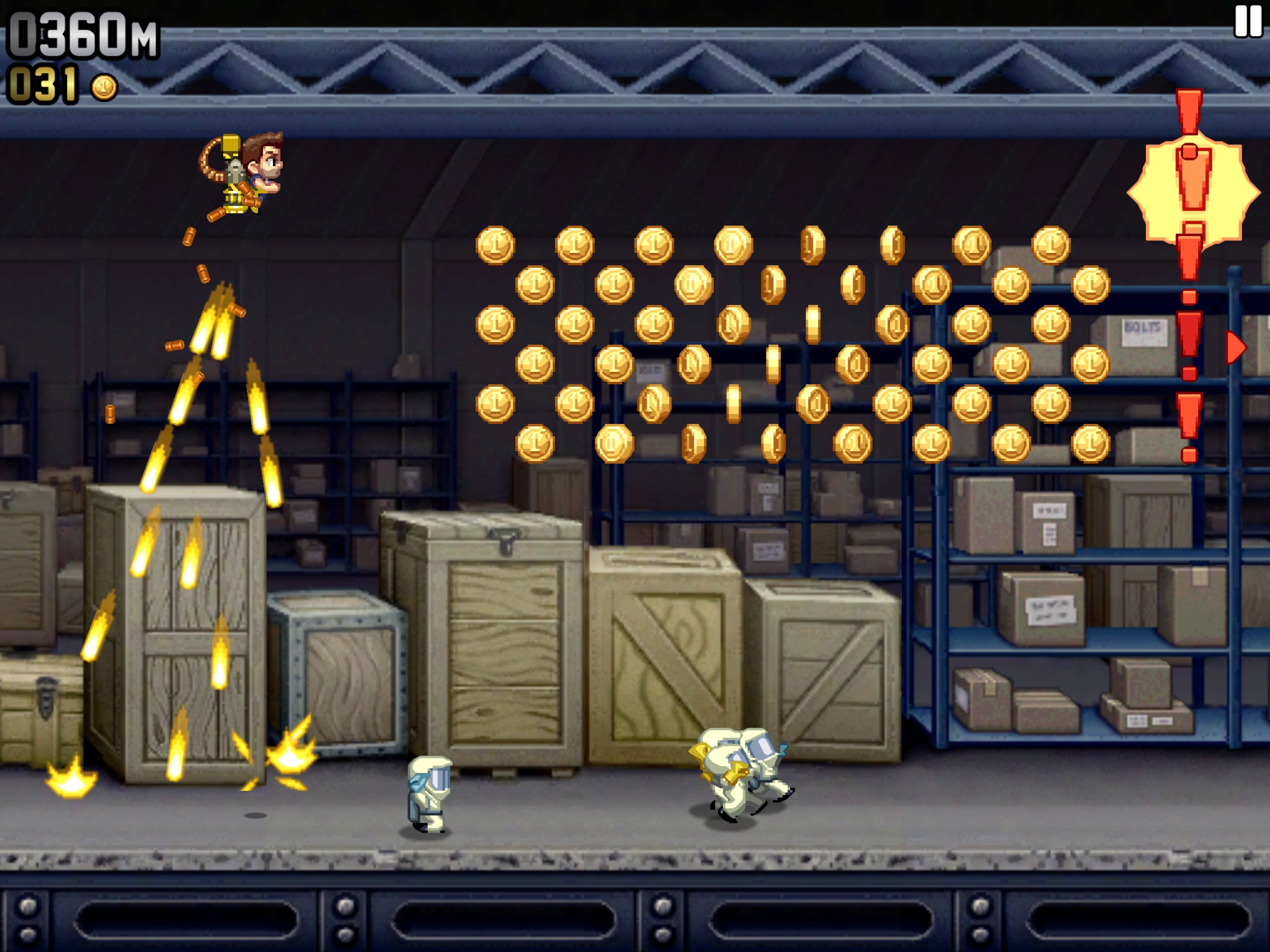 This game features an endless side-scrolling runner in which a character named Barry steals a top-secret weaponized jetpack from a highly classified laboratory. This sounds super tempting. Then, the guy steals it from there and starts using it, making a massacre all around. This was the idea the game was based on. Now let's move on to the gameplay.
The game uses a simple, one-touch system to control the jetpack; when the player presses anywhere on the touchscreen, the jetpack fires, and Barry rises. When the player releases the touch screen, the jetpack stops firing, and Barry proceeds to fall; and because he is in motion along the x-axis, he continuously moves. The objective of this game is to travel as far as possible by also collecting coins appearing in the way and avoiding hazards such as zappers, missiles, and high-intensity laser beams. Touching any of these hazards will lead to instant death, after which Barry's body will cover some distance upon dying. Some special golden-colored "spin tokens" occasionally appear as the player travels, which the player can collect. Upon ending, the player will be redirected to a slot machine that uses spin tokens, and upon spinning, the player has a chance to get valuable power-ups, such as headstart, a player revival, and explosives that can propel the player's body for an additional distance after death. If the player does not wish to spin the slot, they can cash in all remaining spin tokens for 50 coins each.
Additionally, some rainbow-colored boxes with gears can be found occasionally while playing the game. When touched by the player, these boxes give a vehicle to Barry, which lasts for 30 seconds unless hit by an obstacle. Thus, these boosters cover a lot of distance in the given amount of time.
Achievements and Awards
Jetpack Joyride has predominantly received positive reviews. The iOS version of this game received 90 out of 100 on Metacritic, based on 27 reviews, and 93 percentile on Game Rankings, based on 10 reviews. TouchArcade's Eli Hodapp scored it 5 out of 5 and called it a game "you simply must own." AppSmile cited it as "a terrific example of iDevice gaming done just right." Pocket Gamer's Mark Brown scored it 9 out of 10, giving it a "Gold Award" and praising the gameplay, graphics, and depth; "Jetpack Joyride is simplistic fun, but Halfbrick's suite of bonuses, unlockables, leaderboards, and achievements makes it near irresistible."
The game was awarded as the "Best App Ever 2011" by 148Apps and won Pocket Gamer's "Best Action/Arcade Game of the Year 2012", "iPhone/iPod Touch Game of the Year 2012," and "Overall Game of the Year 2012" awards. It was also nominated for "Best Casual Game" at the 2012 International Mobile Gaming Awards, losing to Sprinkle, and it was the runner-up "iPhone Game Of The Year" on the App Store's "App Store Rewind 2011", losing to Tiny Tower. During WWDC 2012, it was awarded the 2012 "Apple Design Award."
My Opinions
The game was first introduced to me by my friends, and I do not regret it. This game had me stick on to the phone for hours, hoping to get a high score that can be shown off. However, I still wish any game with a design and casualness be released and not like the cringy and asset flipped games that are now existent in the market.
What is your take on this game? Comment and let us know!
Till then, see ya!